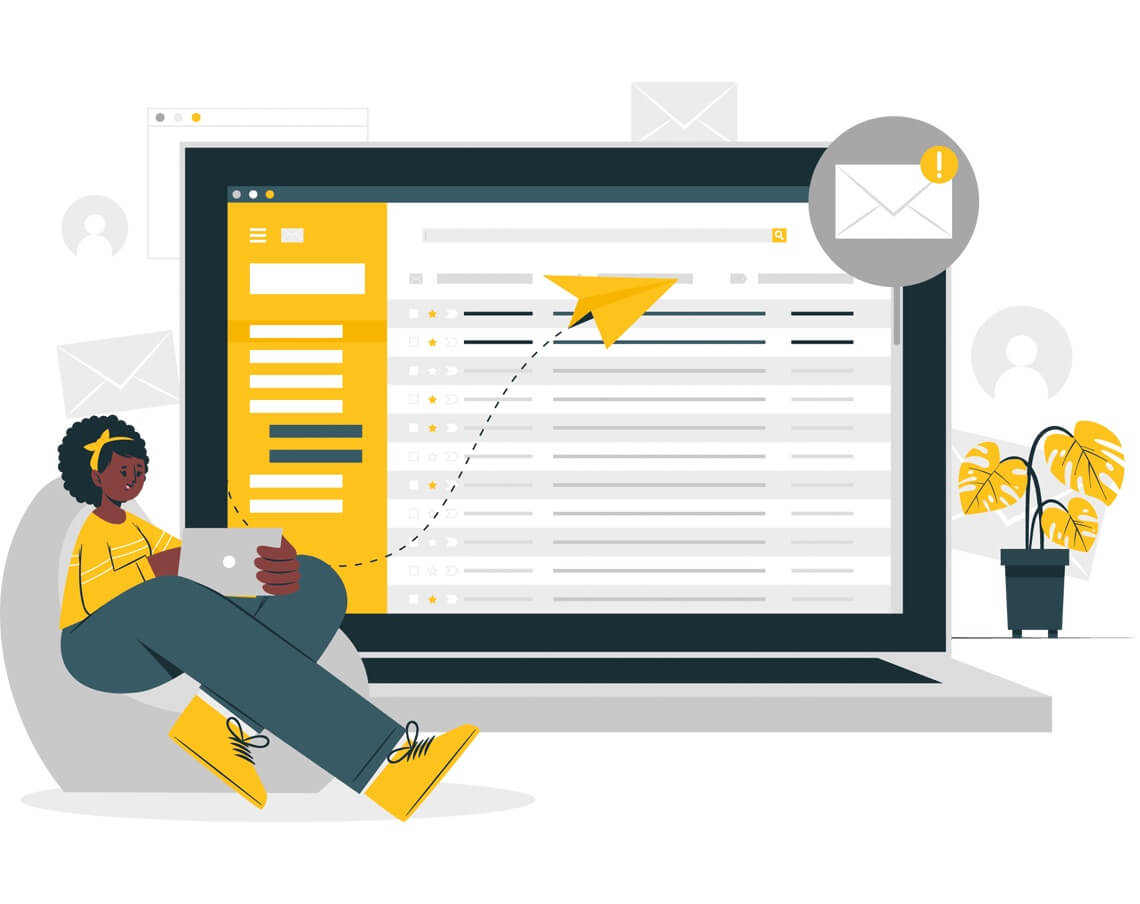 Building An Email Marketing List For Your Etsy Shop
Do you like to get email offers from your favorite e-commerce stores? If you're like most people, you do. In fact, email marketing is one of the most effective drivers of sales, with customers that receive promotional emails spending 138% more money with their favorite stores than people who don't.
However, chances are that as an Etsy seller, you aren't sure how to start leveraging the power of email to promote your shop. You might even think that the task is too difficult, especially since Etsy has restrictions on communicating with your customers.
Naturally, the first step towards an email marketing program is building an email list for that purpose. In this article, we'll talk about the do's and don'ts of building your list. We'll also discuss some ways to make the most of your efforts.
First, why do you need to do email marketing?
Before we dive into how to build an email marketing list for Etsy, let's talk about why doing this is so important. Email marketing enhances your e-commerce business in many different ways, including by growing your customer base and providing protection from account shutdowns.
You'll have more repeat customers
In the world of sales, people talk about having a "base." These are loyal customers or people who make regular payments to your business. For an Etsy shop, the term refers to regular customers who love your shop and return over and over again.
For almost any business, it's cheaper to convince past customers to keep buying than it is to recruit new customers. This means that, even if the repeats don't spend more money each time they shop, you'll still make a higher profit margin on those sales. Also, you'll be less worried about that same money going to the competition.
Finally, email marketing helps keep your brand "top of mind" to your subscribers. Then, when they need or want something, they'll check your store to see if you have the product before they look elsewhere. Before long, your loyal customer base will keep your sales volume higher overall, even during the time of year when your sales are slow.
People buy more often
Besides purchasing items from your shop when needed, many people buy on impulse. For instance, they might discover that your products are perfect for their next project, but they might also decide something is cool and build a project around it. Vintage and handmade items have a similar benefit because people might buy something simply because they like it.
Likewise, cart values increase when people see the value in multiple products at once. This often happens with email marketing when they have a creative idea, or when they become more aware of your product lines.
You get to keep your customers no matter what
One of the drawbacks of using Etsy is that they keep your customer's information – they can do this largely because they control the infrastructure, and in many cases, they collect the money. While this is no problem under normal circumstances, or if you're happy to only sell on Etsy, it can still be problematic.
Take the problem of account suspensions, for instance. Although suspensions used to be uncommon, the explosive growth of Etsy over the last few years has led to a lot of accounts getting shut down. Furthermore, it's easier to get suspended now that Etsy uses bots.
Unless you have an email marketing list, you'll likely lose your customer base to a long or permanent shutdown. That means you have to start over. On the other hand, if you have the email addresses, you can reach out and let people know that you've moved your store.
Rebuilding is much easier than starting over.
What NOT to do while building your email marketing list on Etsy
While it's tempting to jump into the task of building your email list by any means necessary, this approach can get you into a lot of trouble. A mixture of laws, Etsy rules, and best practices prohibit certain gathering methods. In addition, you can ask people for emails in a way that makes people less interested.
Don't: Scrape emails from Etsy communications.
You might be tempted to harvest email addresses from customer orders and automatically start sending them email marketing messages. After all, it's easy to do and doesn't require much interaction. Plus, your list will grow quickly.
Unfortunately, doing this jeopardizes your Etsy store and is legally risky. For one thing, it's a violation of Etsy's privacy policy that can get you banned. If that happens, you'll lose all of the hard work you did building up the store. Similarly, you can't use Etsy messages for spam or other commercial messages that aren't related to a particular transaction.
Additionally, depending on your country of residence, you may be breaking the law. For instance, in the EU, you'd be violating the GDPR if you sent unsolicited commercial emails to your customers. The USA has a similar rule, called the CAN-SPAM act, that significantly limits commercial emails. In both jurisdictions, you need to request an opt-in for emails. You'll also need a way for people to opt-out or unsubscribe. Failure to comply can lead to fines.
Don't: Use a free email address
While free email is great in many situations, it isn't appropriate for email marketing. That's because free providers like Gmail aren't set up for marketing. You can't use these programs to get the appropriate permissions or legally compliant unsubscribe pages. Furthermore, they aren't set up for the volume of emails that marketing often entails.
Here's the other thing: if you use a free email address, you won't have the features needed to excel at email marketing. For instance, you might not have the ability to schedule emails or segment your list. You might not want to use those features at first, but they'll come in handy soon enough.
Email marketing best practices
Just as there are practices to avoid, some methods of building your email list can set you up for success. Here, both the technology and your ability to persuade are important, especially since you need to manage a list once you have it.
Do: Use an email marketing platform
While free email addresses are inadequate for email marketing, a dedicated tool will let you sell with ease. Generally speaking, they include a landing page where people can enter their email addresses and give consent to get marketing messages. You'll also get an opt-out or subscription cancellation tool that helps you stay compliant with local laws.
There are several email marketing platforms available. Examples include MailChimp, Convert Kit, and Constant Contact. While we don't endorse any of them, we do recommend that you consider the features of popular e-commerce-compatible options in your country. Then, consider their pricing and features before you make a selection.
Do: Email regularly
There's no point in having an email marketing list if you don't use it. In addition, not sending emails often enough reduces the effectiveness of your email campaigns. For established brands, experts recommend 1 or 2 emails per week. This strikes a balance between staying top-of-mind and being annoying. However, if you're just starting out (and don't have a marketing team), even once or twice a month may be enough.
The trick is to email at regular intervals.
Tips for Building Your Etsy Email Marketing List
As we mentioned above, the most important aspect of building your email list is asking for people's permission. Not only is this often a legal requirement, but it's also a common courtesy. In addition, you'll want to make joining your email list attractive by offering something of value.
How to ask for permission
Depending on your country, you may need one or two steps for an opt-in. However, the second step is usually a follow-up email. Either way, you'll want to use one of these methods to ask people the first time. Then, you'll want to give people a link to the landing page that collects their information and adds it to the database of your email client.
Several methods have proven effective over time.
Use design features to incorporate the landing page URL
One of the more effective ways to get new email list members is to advertise your mailing list on shop assets. Specifically, you can add a link to your landing page to the shop banner or product descriptions/photos. Then, someone can type the landing page URL into their address bar and give their email.
Thank your customers
Many Etsy sellers send thank-you messages to their customers, while some others depend on the automated "thank you" email. Either way, you can use this opportunity to mention your email marketing list and include the link. Because you're mostly talking about a transaction, Etsy allows you to do this.
Include an invite with your package
Another common practice on Etsy is to include a "thank you" card with the product shipment. Usually, the card will include a seller's store link and other information for future reference. However, it's easy to also add the landing page URL. Since you are sending it with the product, people may be more likely to sign up when they see the quality of your work.
Post the link on social media
Especially if your Etsy shop has a social media presence (or everyone knows you sell), you can post the landing page link there. Doing this lets everyone who follows you or your shop have the opportunity to sign up and the means to do so. In fact, your link will even be seen by your follower's audiences.
Convincing people to say yes
While simply posting your link will get some people to sign up, many people will need an incentive. After all, most people get lots of emails every day, and often more than they can read. In addition, email is a personal space where not everyone wants to be bothered with endless commercial messages.
For this reason, you want to make joining your email list especially attractive. There are a couple of major ways to do this.
Offer exclusive content or a thank-you gift
As an Etsy seller, you take pride in the special items that you sell. For some sellers, offering a small gift in exchange for joining the email list can be effective. Some examples include exclusive content like a video tutorial or a value-added printable. Here, the idea is to give people something that doesn't require shipping, and that's exclusive to your shop.
Provide a coupon
The other major option is to offer a coupon. Depending on your profit margins and items sold, this could be a percentage off the next purchase. Or, you might offer a small gift with purchase, such as a gift bag to hold their treasures or something with your logo on it.
In both cases, the customer won't get anything of value unless they make a purchase. However, wit the power of email marketing, this is much more likely. Besides, some people will buy something just to get a discount. Either way, you win.
Offering coupons, especially for a percentage off of the next purchase, is the most popular option.
Final thoughts
As important as offering products that your customers will love might be, email marketing is one of the best ways to increase sales. Decades of experience demonstrate that customers buy more, and more often if a brand is kept top-of-mind. However, to do email marketing, you need a mailing list. By following the recommendations in this article, you should be able to start and expand your list quickly and easily.